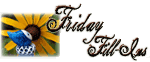 And...here we go!
1. I'd like
to have a couple more hours of sleep
.
2. One of my most favorite romantic memories is
going out on a date for the very first time
.
3. Last night, I had
fettucini alfredo
for dinner.
4. Sorry for the
lack of time updating this blog, I am busy helping out my friend setting up her business. We still have to choose a good videosurveillance that they should set up
.
5. Can we
have lunch
now?
My kids are starving!
6. One of my worst temptations is
smoking after meal
;
I find it so
hard to resist!
7. And as for the weekend, tonight I'm looking forward to
quiet night with my family
, tomorrow my plans include
going to my kid's doctor for their check up
and Sunday, I want to
go somewhere with my family!


Happy Weekend Everyone!